Board of Directors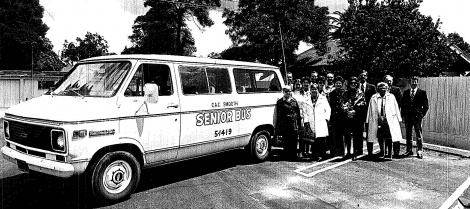 SMOOTH is governed by a volunteer Board of Directors who offers a variety of personal experiences, business backgrounds, professional affiliations, and civic club membership. All share a common commitment to SMOOTH's Mission to serve seniors, the disabled, and economically challenged residents of the Central Coast.
The Board meets on the first Wednesday of each month from 11:30 a.m. to 1:00 p.m. at the SMOOTH office in Santa Maria. Meetings are devoted to updates on SMOOTH activities and providing staff with input on operational issues, developing policy, reviewing SMOOTH's financial position, discussion fund-raising or grant opportunities, and exploring new services for the community.
Since the first Board of Directors, who met officially on May 15th, 1974, the Board has welcomed the energies of dozens of Central Coast residents. It was during the Board meeting on August 22, 1974 that a proposal from then-attorney Jon Gudmunds was offered to name the new organization, Santa Maria Organization of Transportation Helpers (SMOOTH). It was passed unanimously.
The picture above is of one of the first SMOOTH Board of Directors in 1975 standing in front of one of SMOOTH's first vans, used on the "Senior Bus" route in Santa Maria.
If YOU are interested in joining the SMOOTH Board of Directors, please call Executive Director Fil Simas to discuss the process.
The current Board of Directors, along with the month/year joining the Board, are:
President, Jeremy Moreno (March 2013)
Vice President, Jose Nichols (June 2013)
Secretary, Sharon Henning (March 2009)
Treasurer, Cindy Bayless (December 2010)
Katherine Fischer (October 1997)
Harry Watson (June 2007)
Susan Rees (February 2008)
Leona Doidge (October 2014)
Gary Gross (March 2020)
Jason Buchanan (July 2021)
Julie Posada (September 2021)
Susan Nunn (August 2022)