Guadalupe Flyer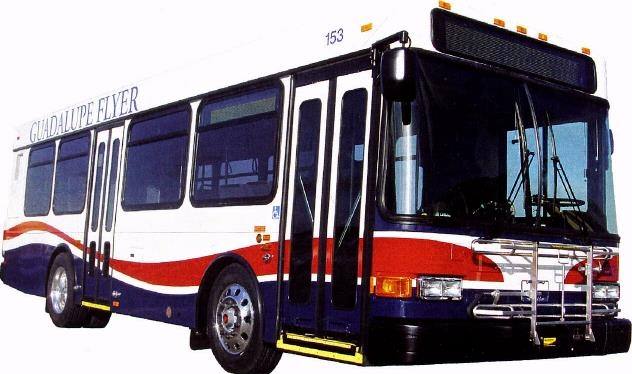 Passenger Fares
Fare (1 Way)
General Public - $1.50
Students - $1.00
Seniors (60+) - $0.75
Disabled - $0.75
Transit Rules
Up to 3 children under 6 years of age may ride for free when accompanied by a paying passenger.
Drivers do not carry change, do not accept checks, debit or credit cards and cannot give refunds. Please have your money unfolded and ready when the bus arrives.
A 2-bike storage rack is provided on the front exterior of each transit bus. If capacity is reached on the bike rack, ONE bicycle and ONE rider can occupy the front flip-seat section of the bus. Riders will stand and maintain control of the bike at all times. Riders will vacate this area for a wheelchair user or disabled person. If there is no other storage available, this bike rider may be asked to leave the bus and wait for the next bus. A single ride bus pass will be issued for that transfer.
Inappropriate passenger behavior could result in the loss of bus privilege and/or could result in police involvement.
Holiday Schedule
The Flyer service is closed for service on the following days:
Christmas Day (December 25)
New Years Day (January 1)
Easter Sunday
Independence Day (July 4)
Thanksgiving Day (Fourth Thursday in November)
The Flyer operates on the SUNDAY SCHEDULE (8:45 a.m. - 6:35 p.m.) on the following days:
Presidents' Day (Third Monday of February)
Memorial Day (Last Monday of May)
Labor Day (First Monday of September)
Bus Stop Location
Sunday & Holiday Hours in shaded area
| | | | | | | | | | | | |
| --- | --- | --- | --- | --- | --- | --- | --- | --- | --- | --- | --- |
| 1. SM Transit Center | 6:15 | 7:30 | 8:45 | 10:00 | 11:15 | 12:30 | 1:45 | 3:00 | 4:15 | 5:30 | 6:45 |
| 2. Town Center Mall East | 6:18 | 7:33 | 8:48 | 10:03 | 11:18 | 12:33 | 1:48 | 3:03 | 4:18 | 5:33 | 6:48 |
| 3. Main & Thornburg | 6:21 | 7:36 | 8:51 | 10:06 | 11:21 | 12:36 | 1:51 | 3:06 | 4:21 | 5:36 | 6:51 |
| 4. Main & Russell | 6:24 | 7:39 | 8:54 | 10:09 | 11:24 | 12:39 | 1:54 | 3:09 | 4:24 | 5:39 | 6:54 |
| 5. Amber & Obispo | 6:35 | 7:50 | 9:05 | 10:20 | 11:35 | 12:50 | 2:05 | 3:20 | 4:35 | 5:50 | 7:05 |
| 6. Main Street & Point Sal Dunes | 6:37 | 7:52 | 9:07 | 10:22 | 11:37 | 12:52 | 2:07 | 3:22 | 4:37 | 5:52 | 7:07 |
| 7. Jack O'Connell Park | 6:40 | 7:55 | 9:10 | 10:25 | 11:40 | 12:55 | 2:10 | 3:25 | 4:40 | 5:55 | 7:10 |
| 8. Pioneer & 2nd | 6:43 | 7:58 | 9:13 | 10:28 | 11:43 | 12:58 | 2:13 | 3:28 | 4:43 | 5:58 | 7:13 |
| 9. 5th & Tognazzini | 6:46 | 8:01 | 9:16 | 10:31 | 11:46 | 1:01 | 2:16 | 3:31 | 4:46 | 6:01 | 7:16 |
| 10. Amtrak Station (on request) | 6:49 | 8:04 | 9:19 | 10:34 | 11:49 | 1:04 | 2:19 | 3:34 | 4:49 | 6:04 | 7:19 |
| 11. Guadalupe & Olivera | 6:52 | 8:07 | 9:22 | 10:37 | 11:52 | 1:07 | 2:22 | 3:37 | 4:52 | 6:07 | 7:22 |
| 12. 10th & Senior Center | 6:55 | 8:10 | 9:25 | 10:40 | 11:55 | 1:10 | 2:25 | 3:40 | 4:55 | 6:10 | 7:25 |
| 13. Peralta & 11th | 6:58 | 8:13 | 9:28 | 10:43 | 11:58 | 1:13 | 2:28 | 3:43 | 4:58 | 6:13 | 7:28 |
| 14. Obispo & Fir | 7:01 | 8:16 | 9:31 | 10:46 | 12:01 | 1:16 | 2:31 | 3:46 | 5:01 | 6:16 | 7:31 |
| 15. Flower & Elm | 7:03 | 8:18 | 9:33 | 10:48 | 12:03 | 1:18 | 2:33 | 3:48 | 5:03 | 6:18 | 7:33 |
| 16. Flower & Birch | 7:04 | 8:19 | 9:34 | 10:49 | 12:04 | 1:19 | 2:34 | 3:49 | 5:04 | 6:19 | 7:34 |
| 17. Main & Russell | 7:14 | 8:29 | 9:44 | 10:59 | 12:14 | 1:29 | 2:44 | 3:59 | 5:14 | 6:29 | 7:44 |
| 18. Main & Thornburg | 7:17 | 8:32 | 9:47 | 11:02 | 12:17 | 1:32 | 2:47 | 4:02 | 5:17 | 6:32 | 7:47 |
| 19. SM Transit Center (TO TOP) | 7:20 | 8:35 | 9:50 | 11:05 | 12:20 | 1:35 | 2:50 | 4:05 | 5:20 | 6:35 | 7:50 |